Manila - Girlfriendly Hotels without Joiner Fee
Manila Hotel directory for single men
Manila Guest & Girl Friendly Hotels without Joiner Fee
geprüfte Girlfriendly Manila Hotels without Joiner Fee
Last Update: September 2023 girlfriendly-hotels.com was created to respond to the needs of single-traveler single men looking for fun and xxx Manila vacations. The main focus of girlfriendly-hotels.com is to publish a list of Manila hotels where overnight companions can spend the night at no extra cost. Such hotels are referred to in Manila as "Girlfriendly" or "Guestfriendly". The so-called "Joiner Fee" is therefore not charged in these Manila hotels. In addition, we'll let you know if the Manila Girl Friendly Hotels without Joiner Fairy offer a safe, pool and gym. We personally asked all of these Manila hotels if they are Girlfriendly and they charge no Joiner Fee. These Manila Girlfriendly Hotels without Joiner Fairy are rated good to very good and bookable at Agoda.com.
Manila is a juggernaut, whom I knew so far only by looking, or better said, by driving on the way to Angeles City. A city of this size in such a poor country poses certain problems. The traffic is a horror; Dirt, smog, poverty and not least the precarious security situation make the city not just a holiday paradise. In rainstorms, the city is sometimes flooded, but only where the poor live.
However, this is not really a big problem with safety, the most important thing is to always take a taxi in the dark, even short distances. During the day it is largely safe, especially in the tourists sports you need to worry only a little. Nevertheless, be always careful and keep your eyes open, brain turned on … Pickpocket and trick frauds are everywhere.
Manila offers the whole gamut from cheap to expensive, from the backyard to the stink – and a lot in between.
You can find freelancers on the street or in some bars and pubs for very little money, the expensive gogos in Makati and others take 3000 – 6000 (!) Pesos to Barfine, BUT that does not pay for the girl. Here are depending again depending on up to 5000 pesos. These are extremes, of which one should not be deterred – no one MUST pay. As already mentioned, there are possibilities for every purse.
What can you experience in Manila?
After the rather negative impression I got from hearsay, I was very pleasantly surprised by the city. It's true, the city is big, poor and dirty, but it has a lot to offer us. However, for every budget, the price differences are immense. Unfortunately, the three main areas where we find the fun we're looking for are not directly adjacent, meaning that it takes a lot of time and effort (especially in the chaotic traffic there) to rattle things off. It is best to concentrate first on one area. Like I did with Ermita this time.
Next time, I will probably live in Makati near Burgos Street, where I liked the Gogo bars a lot. There are also (as everywhere, where tourists are) lots of freelancers, massages, small bars, etc. In the Burgos Street but the prices are highest.
Very interesting is the EDSA Entertainment Complex.
There are also a lot of Gogo bars, lounges, etc. The prices are rather moderate. The Ladydrinks cost around 200, Barfine 1000 – 1500 and in addition for the girls about 1000 Piso. Old-established bars like Pitstop, Space Girls, Samba Bar, Fire House and more guarantee fun as we want it.
The scene for erotic massages is also available in Manila, expected in a city of this size. Likewise, there are private listings of girls who offer this way. Take money with you, it's not cheap. For some special things such as prostate massage, Nuru massage, etc. are offered (Manila massage).
The best Girlfriendly hotels in Manila are located near the nightlife. The most important party areas for bar girls and freelancers are the districts Ermita / Malate and Makati. Unfortunately, the neighborhoods are not adjacent, so a driving is not spared. Makati is a business district, the prices are slightly higher, but it's the best and safest area for a Manila Newbie – Burgos Street has plenty of GoGo bars and clubs. Many hotels in Manila are Guest Friendly, but not all! The hotels in my list are 100% Girlfriendly and require no Joiner fee. In addition, I limit myself to hotels near the red light district.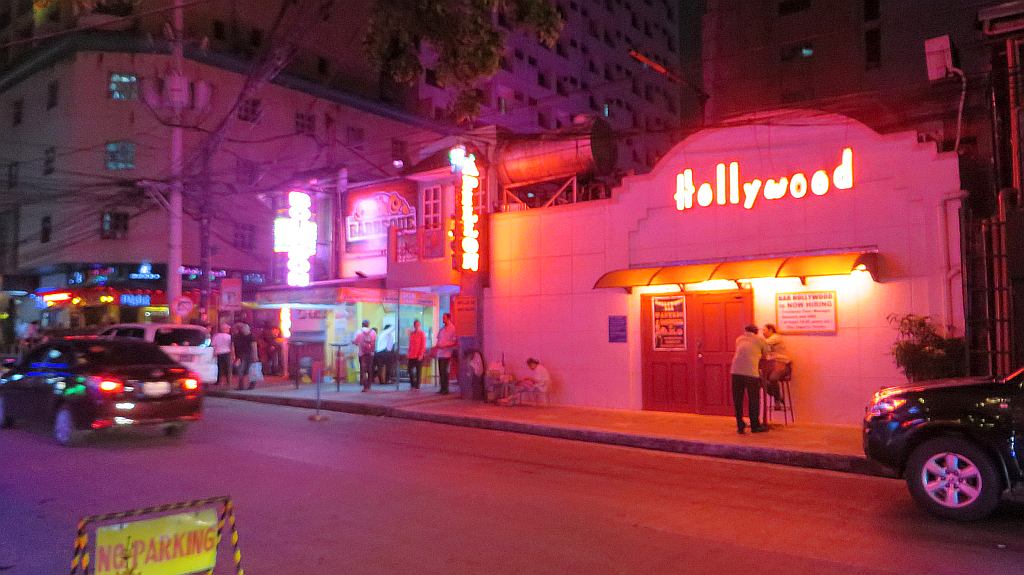 Manila - Girlfriendly Hotels without Joiner Fee
Use of the hotel list:
✶ You can sort the table to your liking by clicking on the table heading at the top!
✶ Im Suchfeld kannst Du nach einem bestimmten Girlfriendly Hotel in Manila suchen
Hotel
Stars
Em-
pfehlung
Location
Price
ab
Rerservation
bei

Recommendation

Hotel Kimberly Manila


✶✶✶

76 %
Malate
Nightlife
750 m
50 €
‣ Agoda.com


Recommendation

Red Planet Ermita


✶✶✶

75 %
Ermita
Nightlife
600 m
29 €
‣ Agoda.com


Recommendation

Best Western Hotel La Corona


✶✶✶

80 %
Ermita
Nightlife
400 m
49 €
‣ Agoda.com


Recommendation

New World Manila Bay Hotel


✶✶✶✶✶

82 %
Malate
Nightlife
250 m
129 €
‣ Agoda.com


Recommendation

Pan Pacific Manila


✶✶✶✶✶

86 %
Malate
Nightlife
550 m
105 €
‣ Agoda.com


Recommendation

Diamond Hotel


✶✶✶✶✶

83 %
Malate
Nightlife
350 m
128 €
‣ Agoda.com


Recommendation

City Garden Hotel


✶✶✶

79 %
Makati
Nightlife
300 m
64 €
‣ Agoda.com

Ascott Hotel


✶✶✶✶✶

85 %
Makati
Nightlife
3800 m
185 €
‣ Agoda.com


Recommendation

Royal Bellagio Hotel


✶✶✶

77 %
Makati
Nightlife
300 m
57 €
‣ Agoda.com


Recommendation

Red Planet Makati


✶✶✶

76 %
Makati
Nightlife
150 m
32 €
‣ Agoda.com

Citadel Inn Makati


✶✶✶

62 %
Makati
Nightlife
10 m
29 €
‣ Agoda.com

Boulevard Mansion Hotel


✶✶✶

56 %
Ermita
Nightlife
50 m
36 €
Z Hostel


✶✶✶

83 %
Ermita
Nightlife
300 m
25 €
‣ Agoda.com

Cherry Blossoms Hotel


✶✶✶

70 %
Ermita
Nightlife
450 m
34 €
‣ Agoda.com

Information about Girlfriendly Hotels without Joiner Fee auf Manila!
We inform about Girl Friendly Hotels without Joiner Fee in Manila!
Manila Hotel Informationen über: Joiner Fee, Girl Friendly, Girlfriendly, Joiner Policy, Joiner Charge, Guestfriendy.
(c)
Header: Von Richard Köhl (ChowSi…, CC BY-SA 3.0, https://commons.wikimedia.org/w/index.php?curid=45193892